In Sunbreak, there are more ways than ever before for players to fight more monsters. Here's what you need to do in Monster Hunter Rise to become unstoppable.
Making an unstoppable mixset to speed through the endgame is one of the best parts of Monster Hunter, and Monster Hunter Rise: Sunbreak is no different. This new part of the latest Monster Hunter game adds a lot of new skills that can be used to hunt every monster in the game.
In this game, some of the best builds include the great Archfiend armor and its powerful Dereliction skill, as well as Narwa and Ibushi, which are more specialized and have more complicated mixsets. If a player wants a strong build to help them get through the endgame or wants to try a new weapon, keep reading for some of the best options.
Royal Order Sword & Shield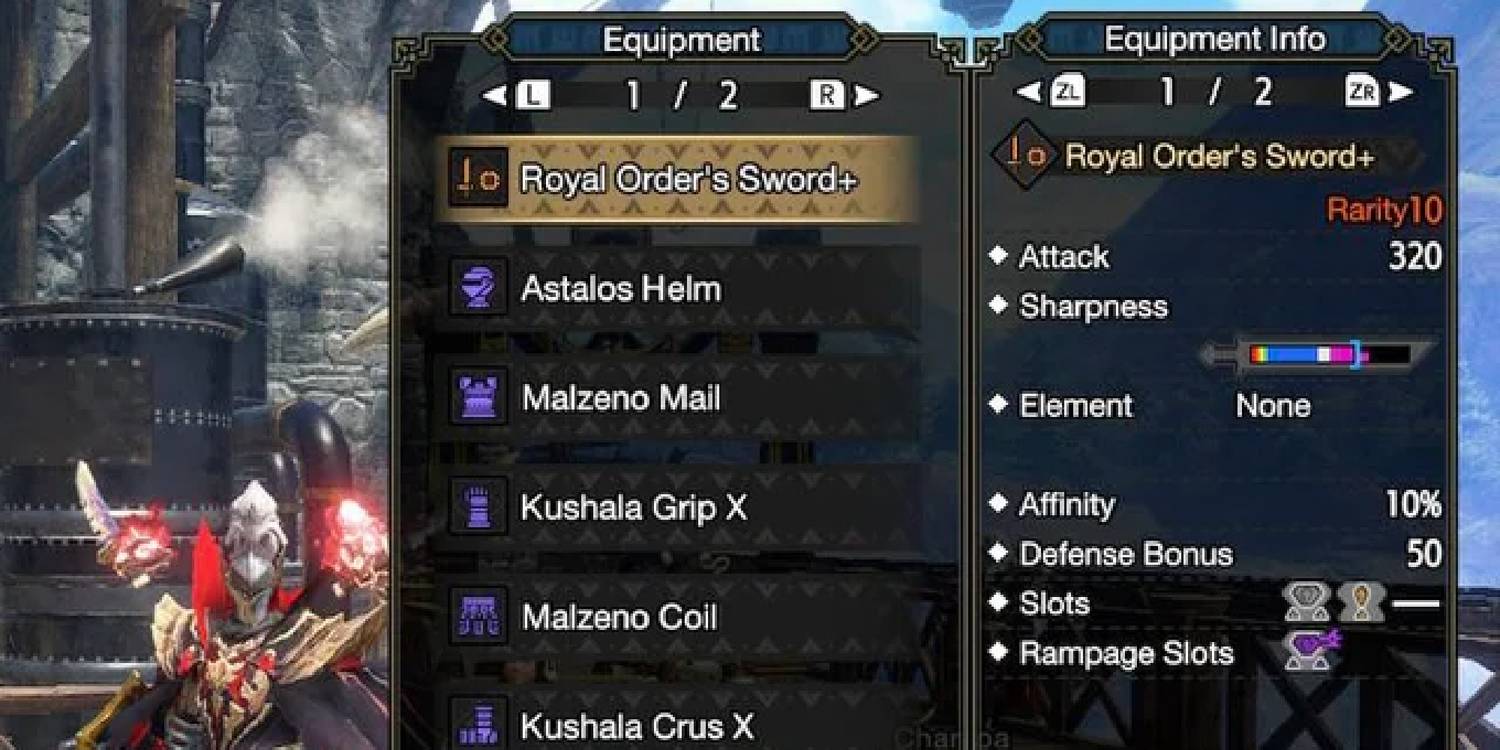 The Sword and Shield is one of the most versatile weapons in the Monster Hunter series, but especially in Monster Hunter Rise and the Sunbreak expansion. Hunters can easily use a lot of different help options when they can use items while their weapon is drawn. The weapon also has fast attack combos and a wide range of movement.
But this SnS build takes advantage of sharpness and affinity, which your current SnS build may be missing. Hunters can use skills like Critical Eye, Attack Boost, and Weakness Exploit that require a lot of purple Sharpness with Master Rank armor pieces from Teostra (head), Barroth (arms), Nargacuga (waist), and Gaismagorm (chest and legs).
Rooksearer Hunting Horn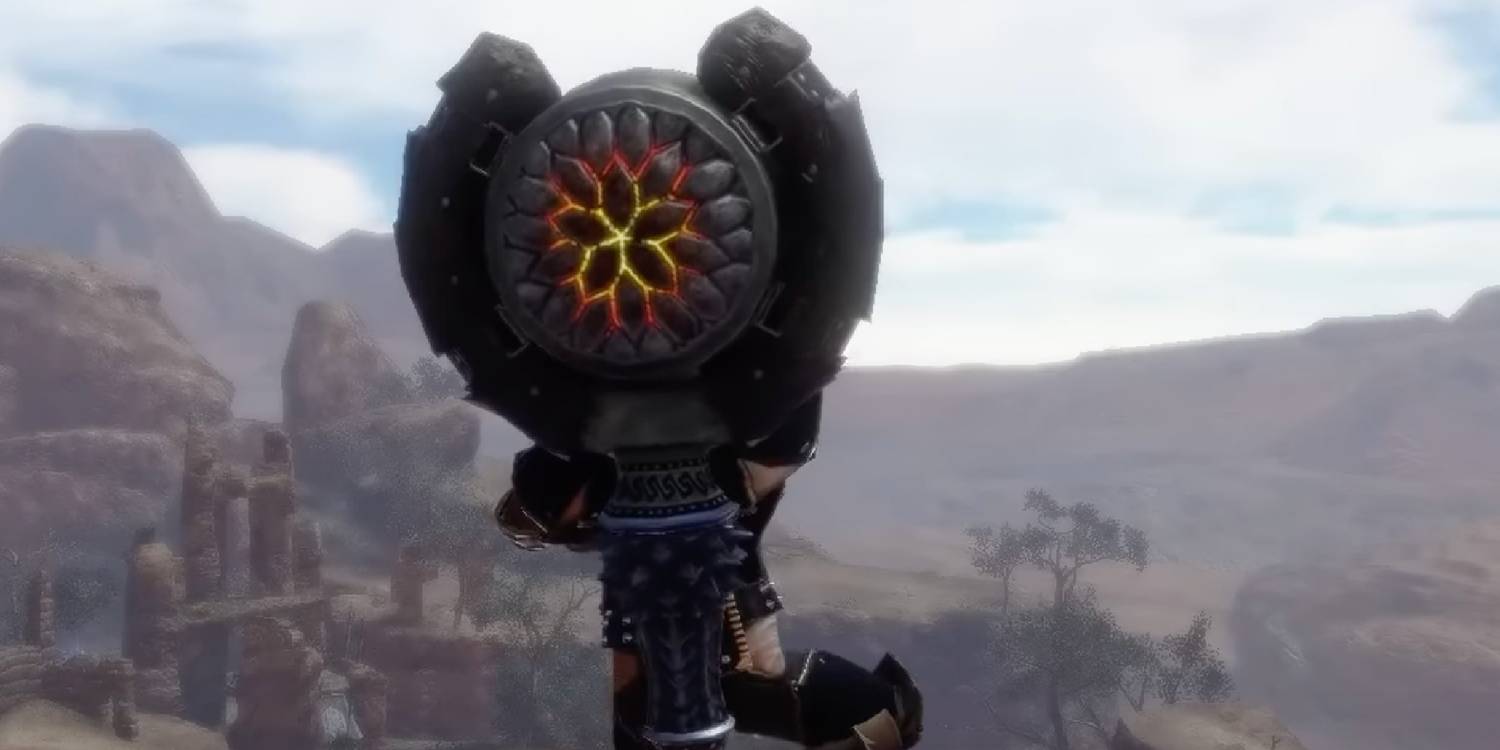 During multiplayer hunts, people who use the Hunting Horn live and die by the buffs it can give them and other hunters. The songs that hunters play with the Bazel Valdi Rooksearer Hunting Horn give them three useful buffs: Earplugs, Attack Up, and Health Recovery. It also has the Blast element, which lets hunters do more damage while they play their songs.
Its perfectly matched set of armor should give the weapon even more huge damage. Skills like Critical Eye and Weakness Exploit will be key, but it will cost a lot. To get the most out of their low-level skills, players will need pieces from Risen Teostra (head and chest), Gaismagorm (arms and legs), and Chaotic Gore Magala (waist), along with the right Decorations.
Aggressive Powder Mantle Lance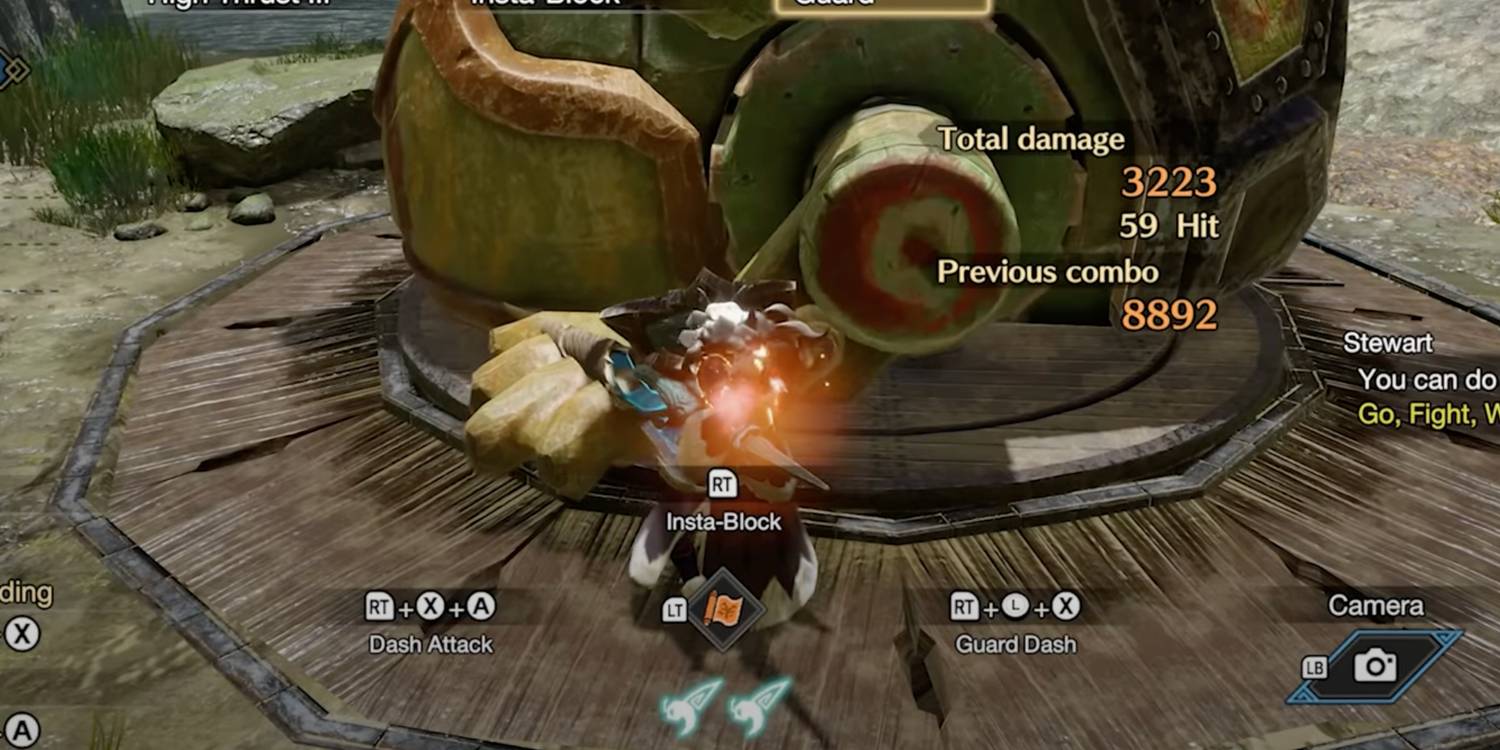 The Lance is all about being able to take a monster's attacks and distract it while your allies make short work of it. This means that a good Lance set must have skills that help with this. For example, this set needs armor pieces from Flaming Epsinas (head), Risen Teostra (chest and waist), and Violet Mizutsune (arms and legs).
With Decorations like Shield Jewels, Guardian Jewels, and Critical Jewels, players can boost skills that any Lance would benefit from. Lance users will benefit the most from the skill Powder Mantle, which can change how a hunter's weapon attacks or deals damage when it explodes. Pair it with a fine, sharp spear like the Fine Kamura Spear. 
Poison Veil Caster Insect Glaive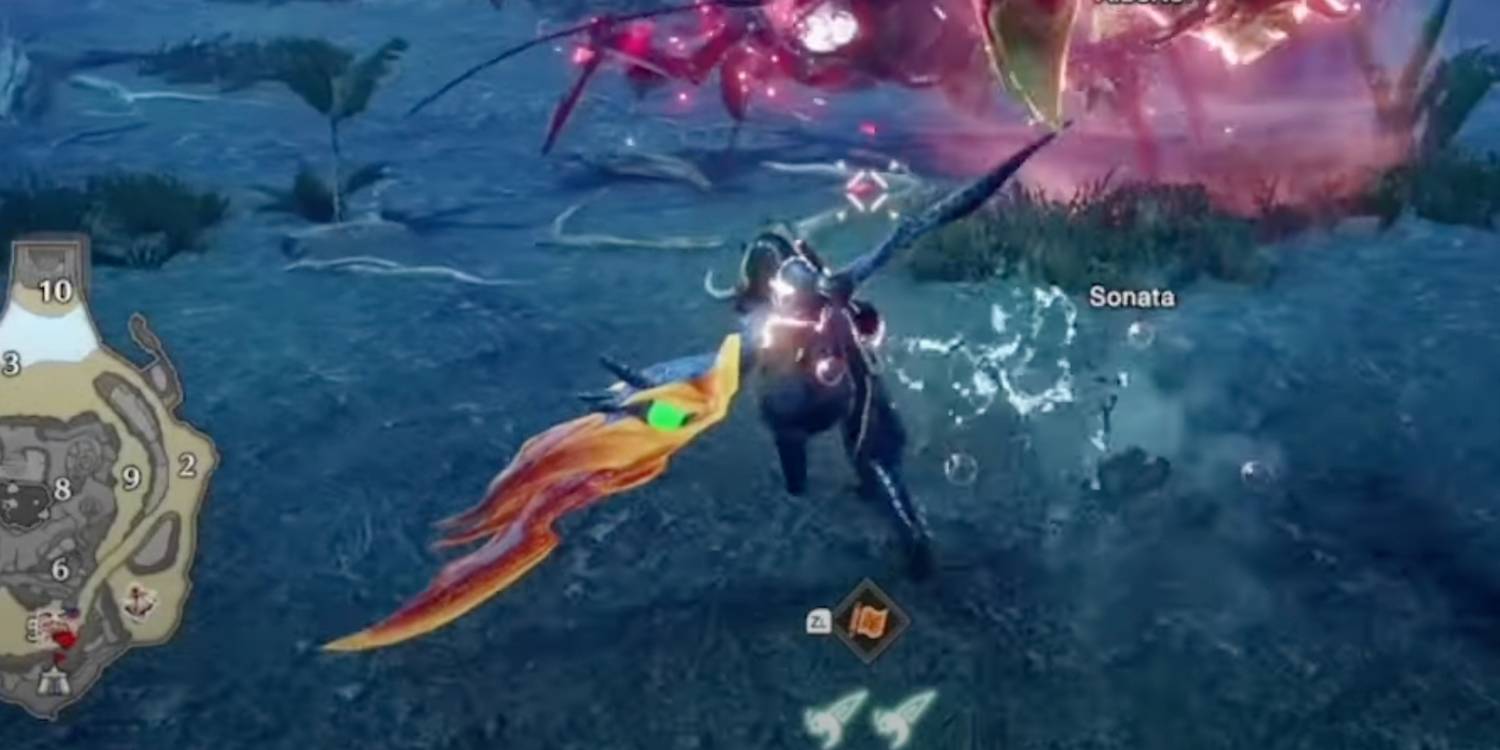 Since the Insect Glaive is one of the more unusual weapons in the series, it can be hard to find the right Armor set for it. But this Armor set will help people who have risked their lives enough to get the Veil Caster, also known as the Chameleos Insect Glaive. This Insect Glaive does a lot of poison damage, and its Sharpness is also very good.
But most of the pieces in the Armor set will be from Risen Teostra (head, chest, and waist), giving hunters the Powder Mantle skill once more. But it also needs pieces from Risen Chameleos (for the arms) and Ingot Armor (for the legs), and the latter needs Purecrystals to be collected. This set will help a player get the most out of their Poison Attack and increase the number of times they get critical hits.
Elemental Switch Axe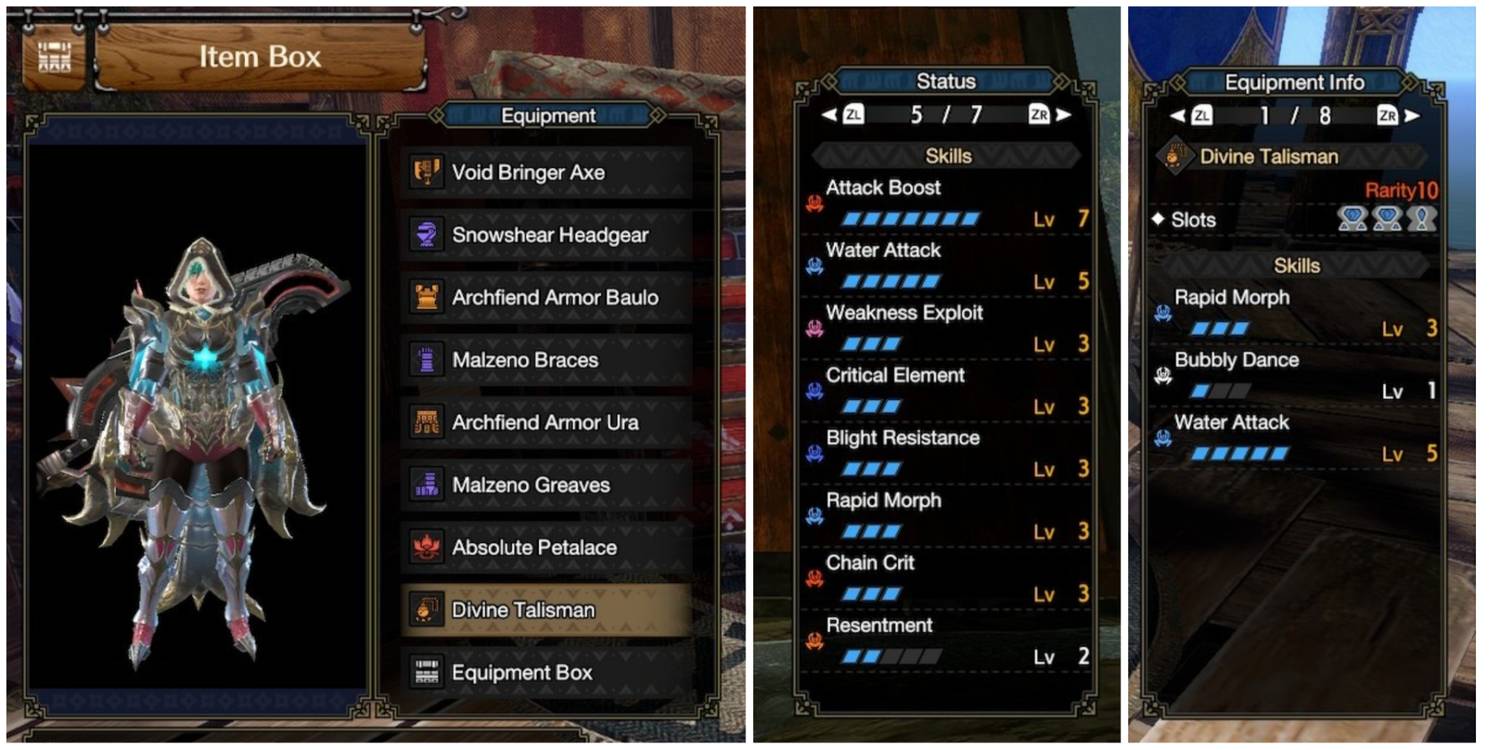 The Switch Axe has been getting a lot of attention lately because it is one of the weapons that got a boost in the form of a new counter switch skill. In Monster Hunter Rise: Sunbreak, the quick attacks of the Switch Axe are useful for taking advantage of the changes in elements.
When you combine two pieces of Archfiend and two pieces of Malzeno, you get Attack Boost, Weakness Exploit, Chain Crit, and Critical Element. This gives you a lot of damage from elements. A talisman with Rapid Morph and two 2nd-level Decoration slots lets the player use the Snowshear headpiece for extra Attack Boost. But if Lady Luck isn't on the player's side, the Almudron Helm X is a good substitute.
Antique Machina Dual Threat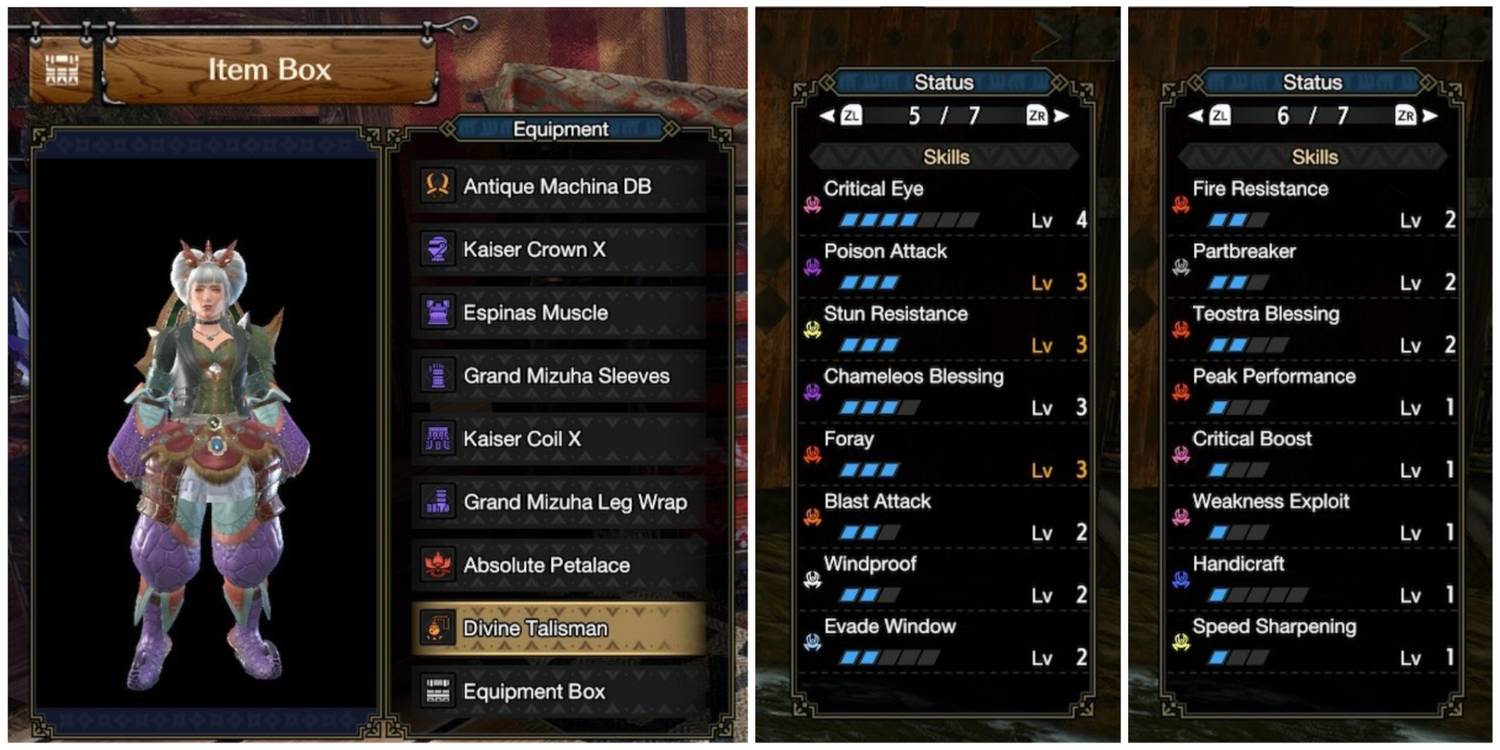 The Antique Machina weapons added in Sunbreak give the game a nice steampunk look that it didn't have before. But the Antique Machina Dual Blades aren't just for looks; they also have blast and poison. This build uses Demon Mode's status boost and Dual Blades' new Silkbind Attack, Spiral Slash, to turn hunters into a dancing dervish of explosive and poisonous death.
This build is mostly made up of Kaiser and Grand Mizuha pieces to activate the Teostra and Chameleos Blessings, which improve blast and poison, respectively. Espina's chest and a talisman with two levels of Foray that increases damage against poisoned monsters go well with these. This set also has a lot of Decoration slots, so players can add small decorations like Steadfast and Grinder to make playing more comfortable.
Volcanic Dereliction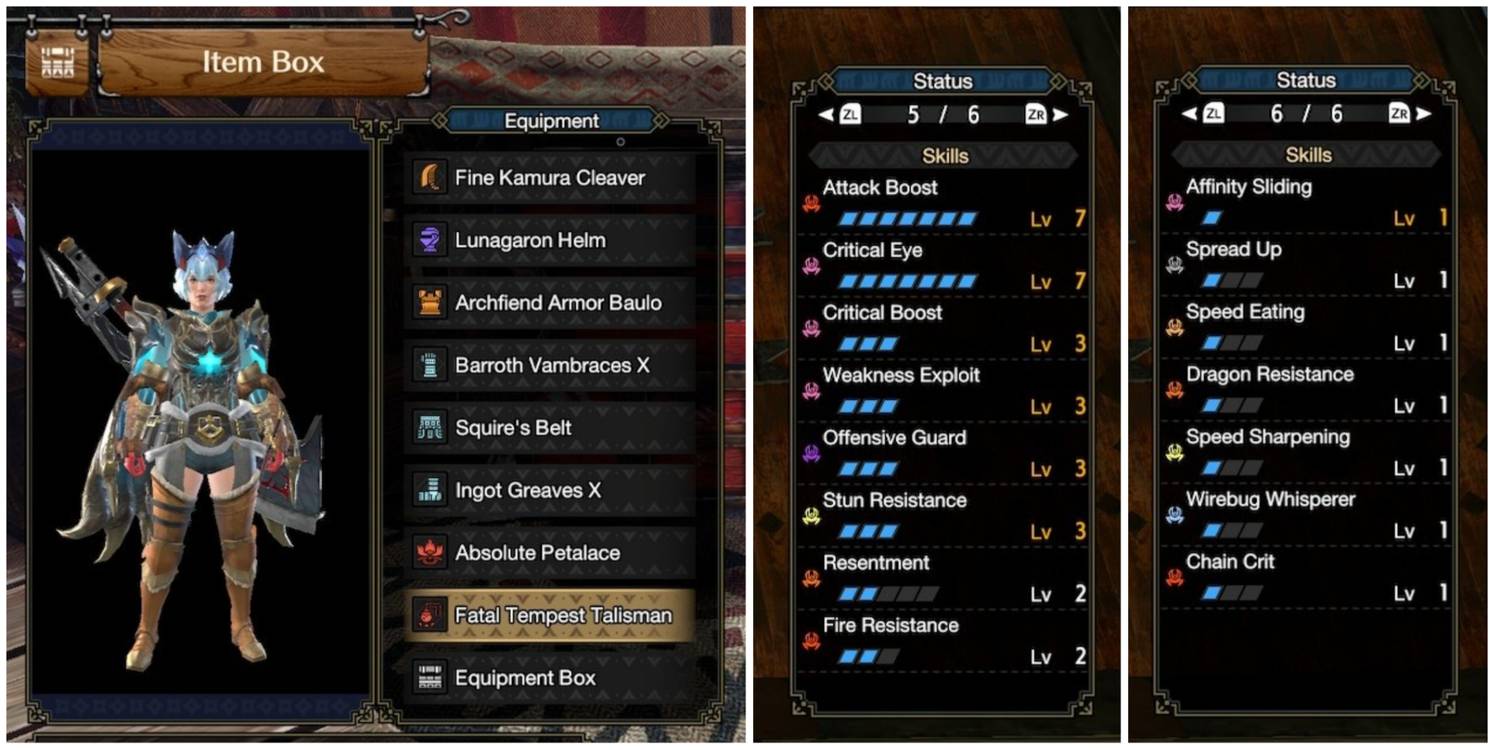 For a long time, the Long Sword was the most powerful weapon in Monster Hunter: Rise. Sunbreak's changes made it less powerful, so it's no longer the best, but it's still a powerful weapon, especially now that elemental damage has been made stronger.
The Volcanic Apocalypse, which is Magma Almudron's weapon, is combined with a full set of Archfiend armor from the last boss to make this simple set. This set gives you the most Resentment, Chain Crit, and Weakness Exploit, as well as the powerful Dereliction skill. This skill is always a part of speedrunning sets. It gives a big +20 element boost, but slowly drains the player's health. This set uses Volcanic Apocalypse, which has the highest base element of any Long Sword. However, the element attack decorations can be changed to any other element by replacing them.
Immortal Build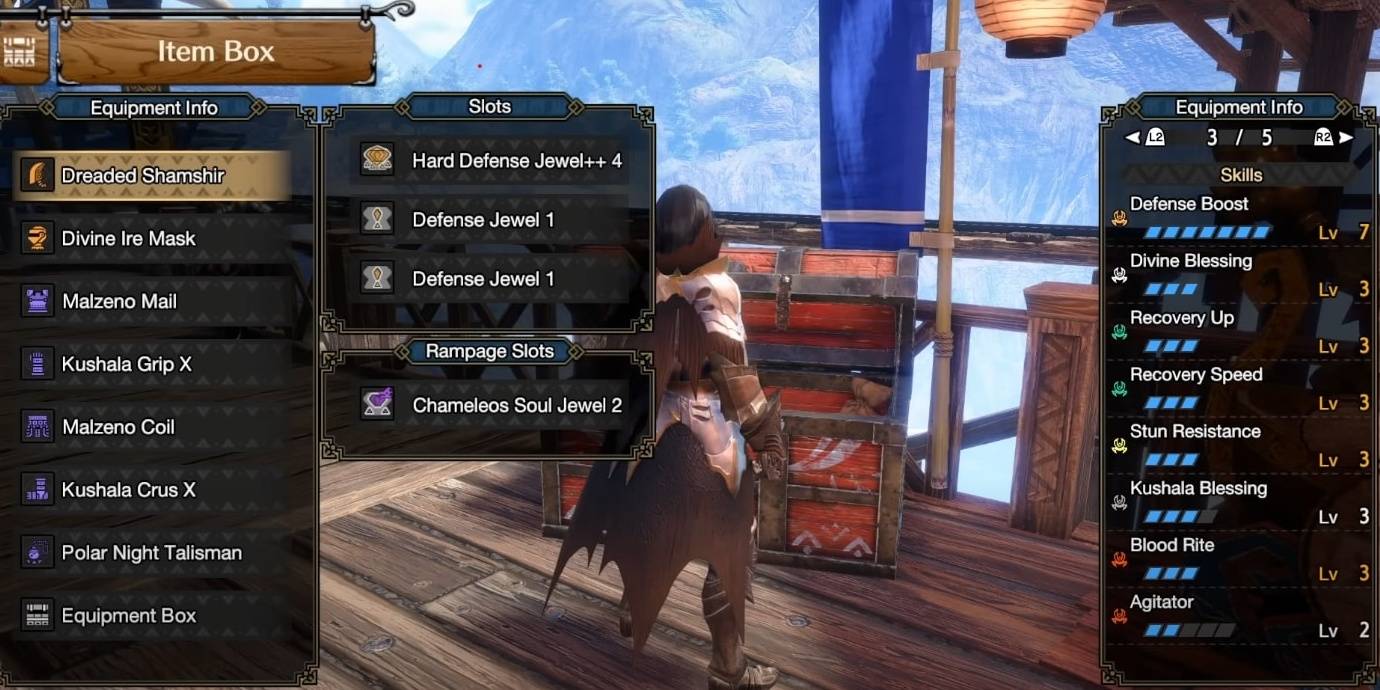 RageGamingVideos' Monster Hunter fans have a tradition of making "immortal builds," which are mixsets that are so tanky that no monster can kill the hunters who use them. In Sunbreak, they have finally brought the immortal build to life.
This set combines the skills Kushala Blessing, which lets you heal past red health, and Blood Rite (a skill that heals the player for a percentage of damage they deal to broken parts). This makes sure that healing keeps coming. It also comes with skills like Defense Boost, Divine Blessing, and Recovery Speed that help it withstand attacks from Sunbreak's most dangerous monsters. RageGamingVideos says that the best weapon is either a Chameleos or a Royal Order. With a Chameleos, the poison status makes it easier to hunt monsters, and with a Royal Order, you get 50 defense for free.
Thundering Charge Blade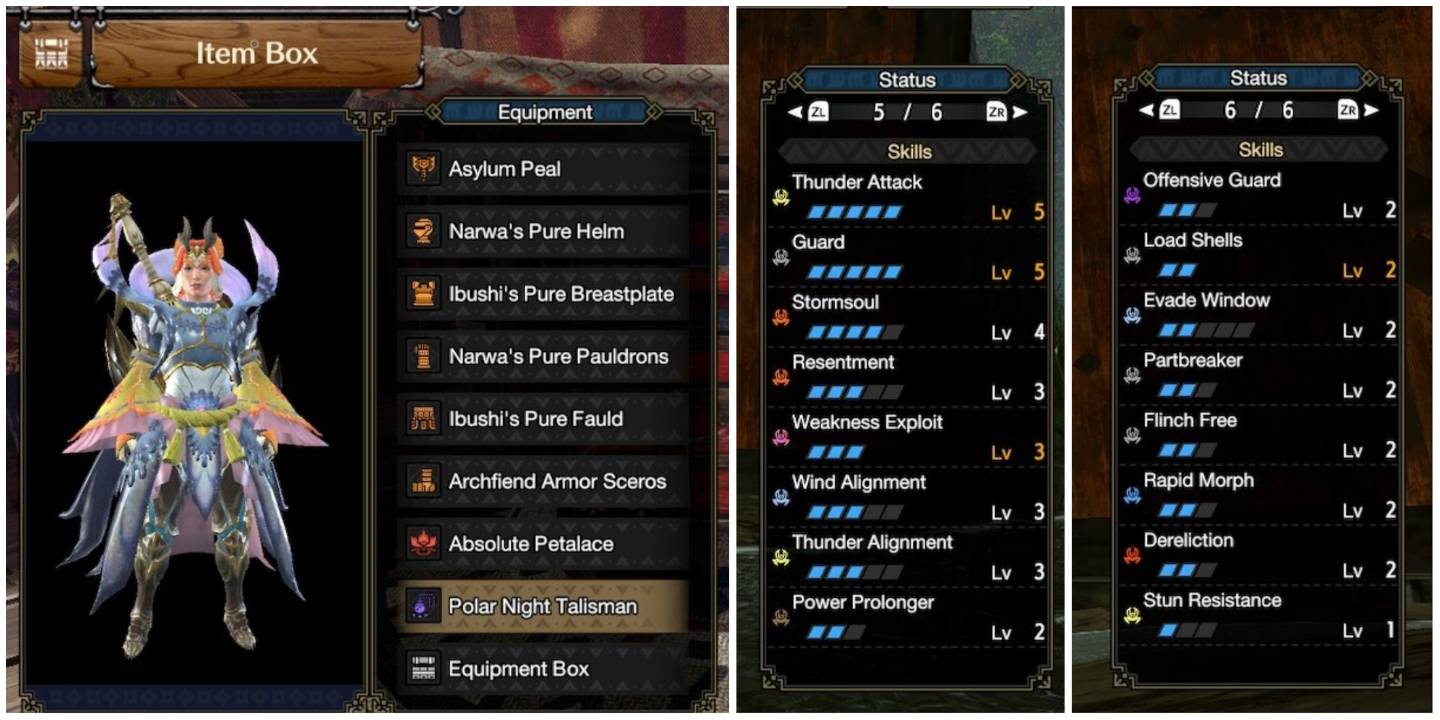 In Sunbreak, the Charge Blade got some much-needed buffs that brought it back into the spotlight. Elemental Charge Blade in particular has become more popular. This set can be used with either thunder or dragon, with Asylum Peal or Draquila Reaver+ as the weapon of choice. The only difference is the element attack decorations. But more monsters are weak against thunder than dragon, so Asylum Peal is usually better.
Getting Stormsoul by combining Narwa's Pure and Ibushi's Pure gives us a 15% bonus to the thunder and dragon element. Also, Stormsoul level 4 raises the level of all other armor skills by one. This lets us get a lot of useful skills for free, like Guard, Guard Up, and Offensive Guard. Adding Archfiend legs gives you good slots and the skill "Dereliction," which increases elemental damage by a lot while in the Red Scroll, but makes you slowly lose health.
Strongarm Stance Build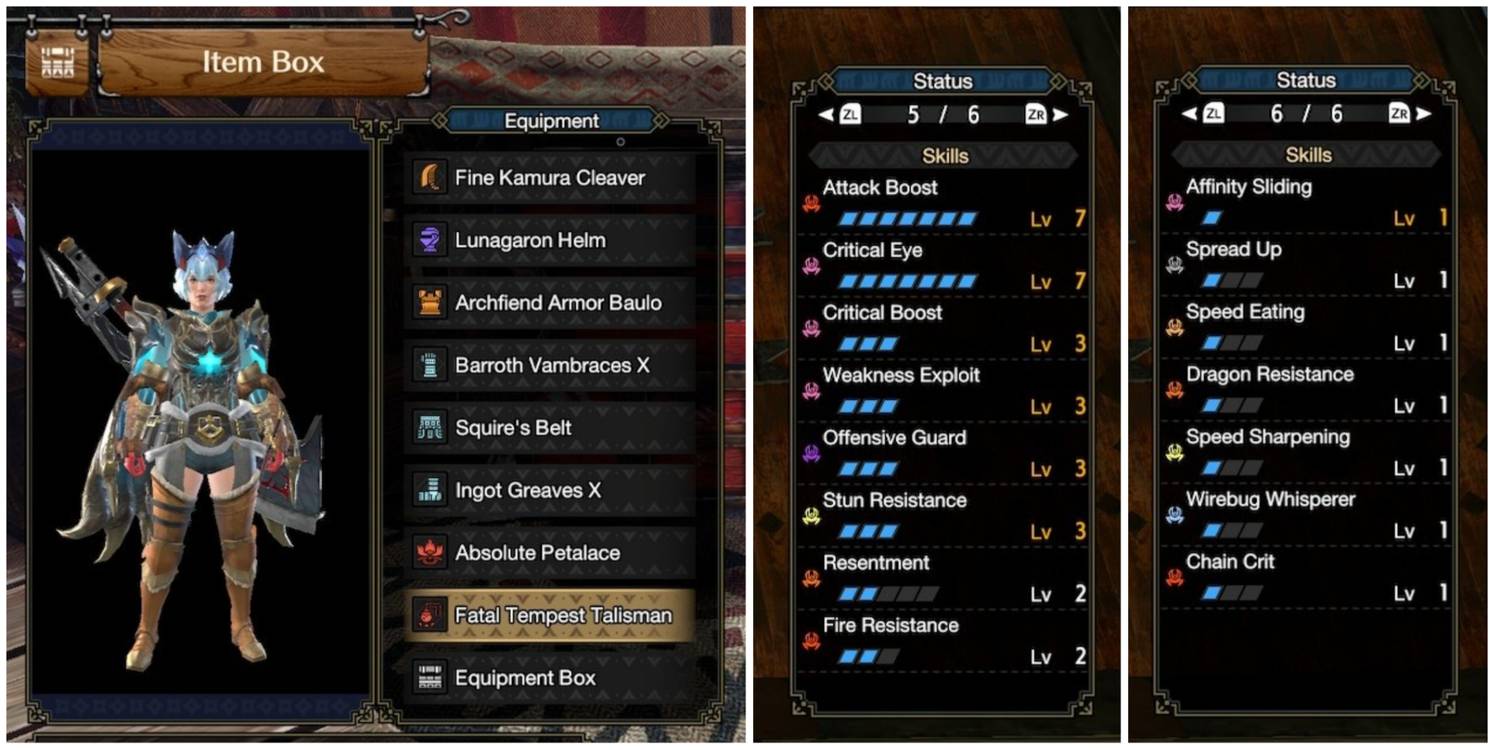 Sometimes, all a hunter needs to do is kill a strong monster quickly. When that time comes, you'll need this mixset. Based on the new Strongarm Stance counter for the Great Sword, this mixset tries to get as many offensive skills as possible while ignoring defense. Be careful, new players, because such an aggressive style of play can kill not only their prey but also hunters who aren't ready for it. Did you enjoy playing Happy Wheels?
With the right decorations and talismans, this build can max out Critical Eye, Attack Boost, Critical Boost, Weakness Exploit, and Offensive Guard (which triggers with Strongarm Stance), while also giving a good amount of Resentment and Chain Crit (both of which also proc with Strongarm Stance). If you use this with the Fine Kamura Cleaver, which is the best Great Sword you can get, it gives you an incredible raw of 860.
Monster Hunter: Rise of the Sunbreak can be played on both the Nintendo Switch and the PC.